This yummy breakfast is full of nutrients from all the fruit and goes well served with a fruit smoothie. I prefer spelt flour as it gives the pancakes a nutty flavour. If you are eating dairy free replace the butter with coconut oil. Serves 2.

INGREDIENTS
150g spelt flour
150ml coconut milk
3 tsp baking power
1 egg
Pinch salt
Few drops of vanilla essence
Butter (or coconut oil)
1 punnet blueberries
1/2 punnet raspberries
5 strawberries
1 banana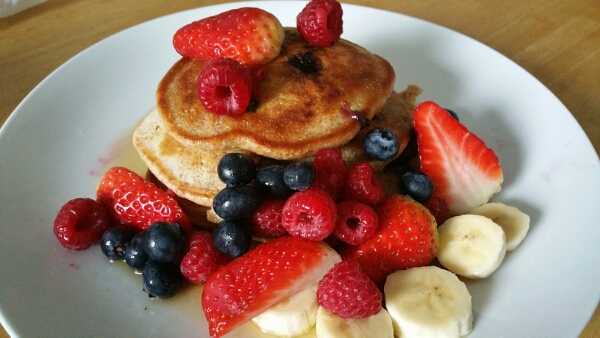 METHOD
Mix together the flour, milk, egg, salt and vanilla essence in a food processor on a low speed with the whisk or batter blade attached. Let the batter sit for at least 20 minutes. Meanwhile, slice the banana and halve the strawberries. Drop half the blueberries into the batter and gently mix them in with a spoon.
Melt butter in a large frying pan on a low heat. Once the pan is warm, spoon the batter into the pan to make 6 small pancakes. Cook for at least 5 minutes until bubbles have broken through to the other side. This will mean the batter should be cooked enough to turn over without breaking. Flip the pancakes and cook for a further 3 minutes or so until cooked through. Serve the pancakes piled high on a plate with plenty of maple syrup drizzled on top, and the fruit piled over. Icecream is a nice addition too.